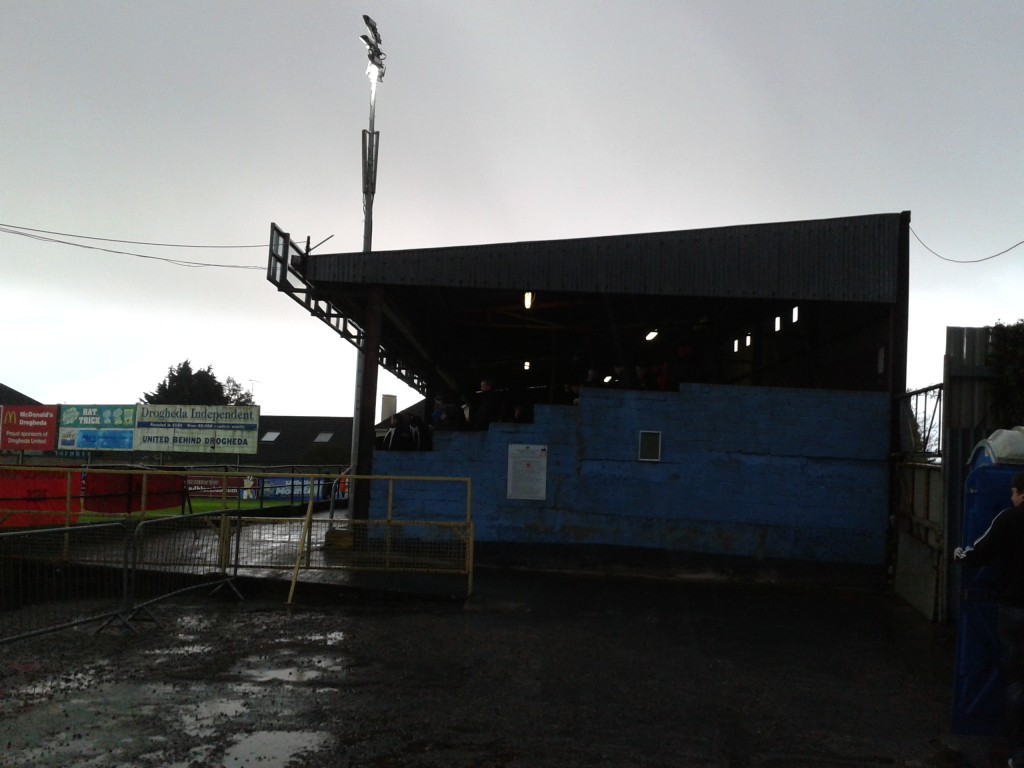 If you had to pick one away trip and ground that you just had to visit in 2012, what would it be? Well, whatever you say, you're wrong, unless you've said "Drogheda" and "United Park". Better luck next time though. While some will try and convince you that the murky grassy knoll is the quintessential away day experience in the League of Ireland, the truth is a little more mundane; that of the crumbling, ramshackled terrace.  In that respect, United Park has everything you could hanker for in an ideal away:
close enough to Dublin that you can be back in civilization before last orders? Check.
Narrow, covered terrace which always seems rammed despite the numbers? Check.
Close proximity to the pitch? Check.
Decent acoustics? Check.
Obscured view of the pitch? Check.
Area to go ballooning about in at the front of the terrace in the event of a late vital goal? Check check check.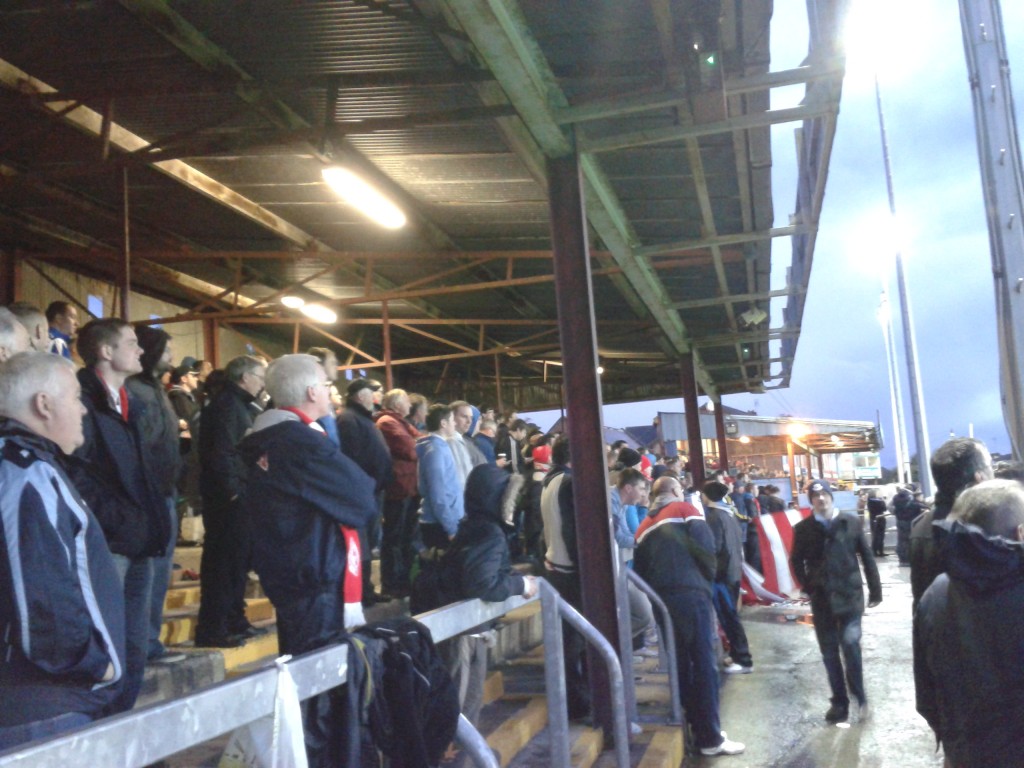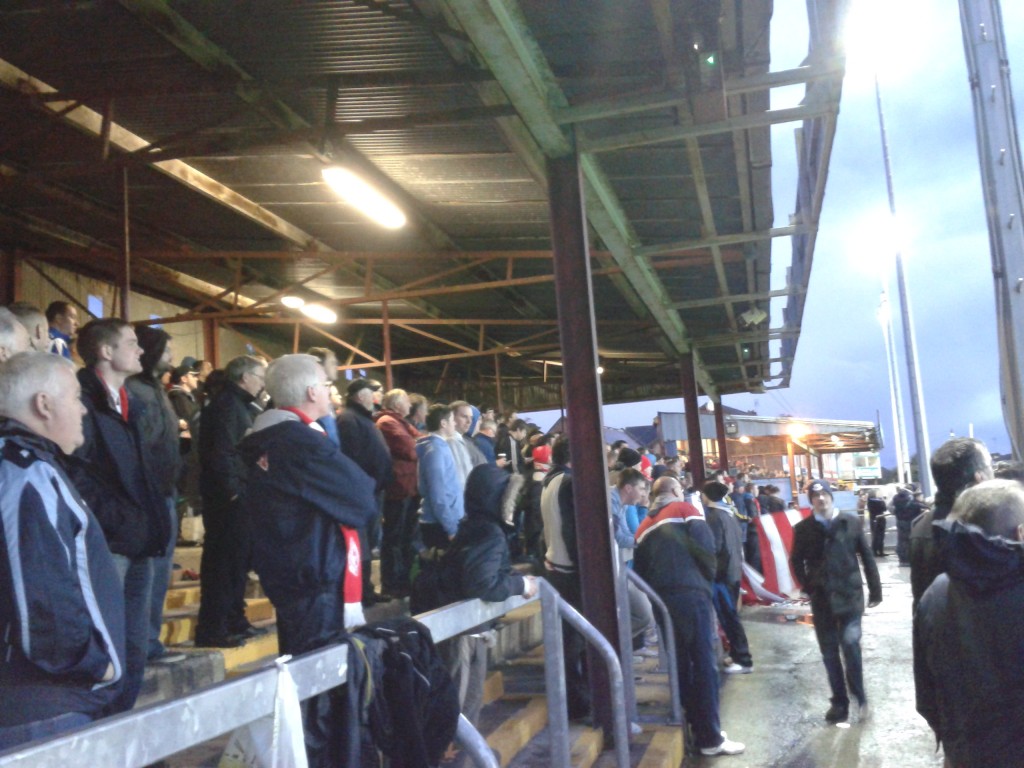 Like a lot of LoI grounds, United Park has seen better days, but its simple away terrace with corrugated iron roof is what gives the dilapidated stadium a real sense of character and charm, a far cry from the typical plastic, corporate suburban football muck that is prevalent at the likes of Tallaght Stadium. Indeed, the only tangible change I've noticed in the away corner at UP over the last 15 years or so has been the new crush barriers that I spotted last Friday. Aside from that (and a few rows of plastic seats over the far side under the bigger home terrace), it's as you were, and in an era that has placed an added emphasis on replacing old traditional grounds with new, plastic banal identikit stadia, this is something that should be celebrated by purists. Like Tolka, Dalymount and Richmond, United Park certainly has that old-school habitual feel, situated behind a row of terrace houses off the Windmill Road. Yes, the sudden emergence of old floodlights amongst 19th Century housing on a dreary evening is one of the perpetual LoI experiences.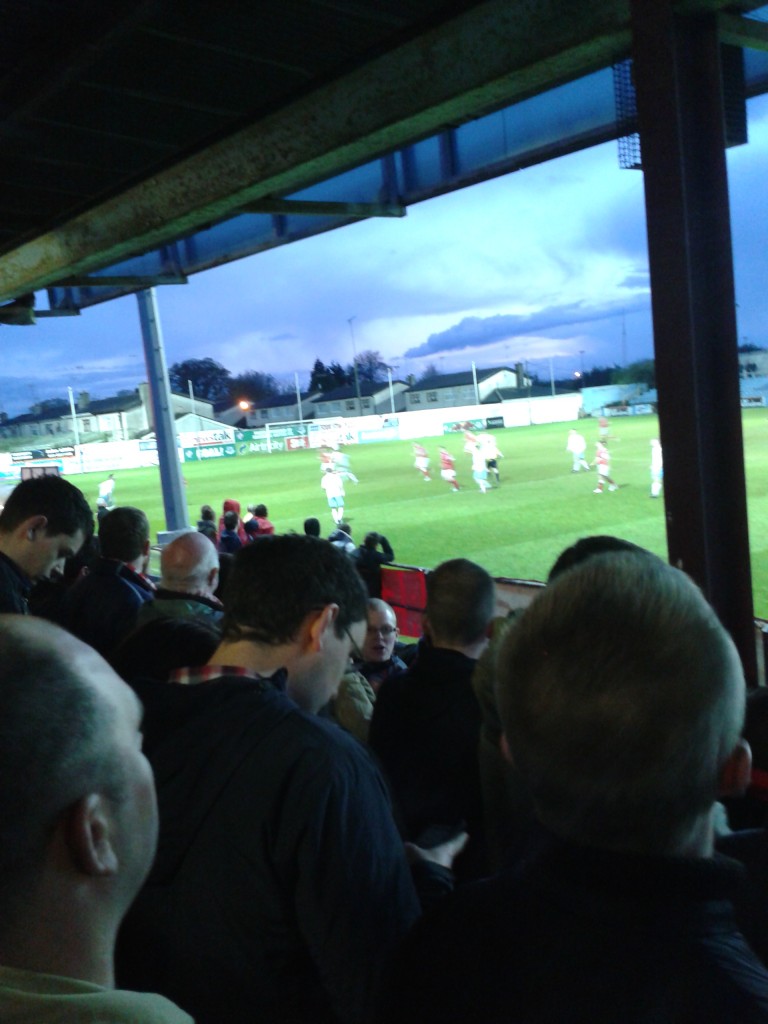 The away section is top notch, a shallow terrace roofed by a low-hanging corrugated iron cow shed. The stand's acoustics are excellent, ensuring that a mob of only a few hundred with the right level of attitude and ale can be mistaken for Galatasaray on any given night. The atmosphere is always ace, perfect for a giddy and raucous away following with everyone crammed in together. There's fuck all in the way of facilities, but let's face it, you don't go the match for the cannelloni and Chianti, do you?
There's been some cracking Reds nights up there over the years. Crucial hammerings were dealt out to the home side pretenders by the shirts when the title goggles were firmly on in 2004 and 2006, Owen Heary banging in an absolute belter in the latter. In October 2004, we hit them for 5 with a breath-taking display of fluent attacking football. And what about the tension-filled night in September 2003, when the title race was right in the balance and a second-half Jason Byrne goal sparked some absolutely mental bouncing down the front of the old shed? Great times. Was fucking freezing up there Stephen's Day '99, mind.
Last Friday was a dour night for all connected with Shels, a limp dire display seeing the Reds go down three goals to one. But the lively travelling support (sadly not matched on the field) was a reminder that this outpost off the M1 is still a fantastic away day.