He might be better known nowadays as the only man on the Ireland bench with half a clue, but once upon a time Tony McCarthy was our cultured, intelligent, all-clearing, all cross-handling rock at the centre of our defence. 7 years ago, we caught up with our then recently-retired centre half.
RI: What's your current position? Retired? Physio? Assistant physio? What's your title?
TMcC: "Yeah I'm retired. I just spoke to Pat about it last week. I've had a bad injury (hip). It's OK to a point, but when I sprint or kick a ball it's too sore really, so that's it…there's an exclusive for you!!!
He asked me to help Larry with the physiotherapy when we were over in Iceland and I've been training in that end of things. I'm qualified now, so I'm glad to help out in that department."
RI: Is it hard to accept that your playing days are now over?
TMcC: "A lot of people have asked me that recently, especially with the club being so high profile over the last while, but I haven't missed it too much to be honest. I've been very busy as well, so I haven't had time to think about it. But since I'm still involved I don't feel left out, I still feel apart of things around the club. I don't think I miss it yet, I've had eighteen good years of football and I've enjoyed my time playing. I'm sure [maybe] in a few months or years I'll miss it, but I'm happy at the moment."
RI: There's some good competition at the back now, how do you rate the current rake of defenders?
TMcC: "Well you at look at the full-backs, Owen is smashing, we all know that. Dave (Crawley) has been tremendous this year; I think everyone will say that. Cover wise, you can still put Dave Rogers out there. He'll probably argue with me, but he's probably a better left-back than he is centre-half. Also, you've Kevin (Doherty) sitting out at the moment, he's been unlucky, but he's so committed to it, he'll definitely come back in. Then you've Jamie (Harris), who has been outstanding. He really landed on his feet when he came here. He's been brilliant. Alan McDermott has come in as well; he'll be good too. Pat will probably look to bring another one in, but even now there's good options there and it would be hard to find a stronger defence elsewhere."
RI: Being the longest serving player here, you've seen a lot of changes around the club, but do you feel privileged to be involved in the current set-up?
TMcC: "Yeah, absolutely. I was here in 1991 and had a really good season. I got player of the year and we won the league. It was the start of something special at the club. When I came home from England, it was great, but still there was that part-time mentality. There were a few of us that were full-time, but other parts of the club weren't there yet and it's only looking back now, I realise the privileges of being here. A few managers have come and gone and the club has had good success, but it could and should have had more really, considering twice on the last day of the season we lost the league. It's a bit clichéd, but it is the disappointments that make you appreciated all the success, so yeah it's great to still be involved."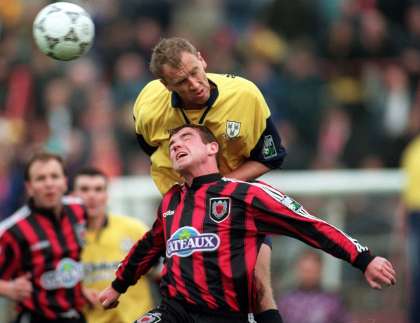 RI: What about the current set-up? Full-time football really is the way forward isn't it?
TMcC: "Definitely. Even where I am now with the medical end of things. Any team in Europe would be proud of the set-up here. The lads are well catered for in all areas; the travel, the kit, it's all sorted. It definitely reflects when we play. Especially now, as even when we don't play well, we're expected to cruise through games. The Cork game the weekend after we played in Lansdowne was a great example of that, as without playing particularly well, the lads got the result and that's the level you have to be at."
RI: You've played under a few managers here, who's been the most influential?
TMcC: "That's a difficult one. I think Pat has been most influential for the club. Keely couldn't handle the full-time set up, no questions asked. Richardson was the same, he also couldn't handle it. Pat has really brought the club forward. I know there's only one sure thing for managers and that's the sack, but Pat has done well. Like I say, he works hard. He wants the club to do well and he's fully committed to that. Even his involvement at schoolboy level shows his desire to see the club progress. He puts the time in and I think that has been reflected around the club."
RI: You came back in 1997, we were having a great season and then it went horribly wrong, what happened?
TMcC: "We lost three cup finals if you like. Just on managers, Rico never appealed the suspensions of two players when we were to play Dundalk, he was more interested in the winning three in a row in the cup, which was a bit strange really. We ended up losing anyway, so it was a disaster. I think most people would have settled for a league win, even if it meant losing the cup. We were very close to being a treble winning team, but that's the thin line for you. I did enjoy that year though; it was nice to come back. You don't enjoy losing, but overall it was an enjoyable season."
RI: Of course, the league win led to the Champions League. Obviously, you didn't play, but it was fucking amazing wasn't it?
TMcC: "It's been beyond relief really, a bit surreal I suppose. The coverage has been amazing, there was so much hype and again it's cliché time, but it probably won't hit us until we've settled back into the league and we've come back down to earth. I just hope that there will be repercussions and there will be a knock on effect. Obviously, confidence will be high, as we know we CAN reach that level. The potential is here though, the lads have shown that and let's hope we can get back there again."
RI: The best Champions League moment?
TMcC: "That's a tough one. Eh…well obviously the Hadjuk game here was something special. There were a lot of tears that night, but for me I think Lansdowne was special. Sitting on the bench and every so often the crowd would be up in arms, getting behind the team. It was better than an Ireland game. There was no badness there; people showed up to see us do well and it was quite an emotional night really. Even if we were having bad spells, no one turned on us, it was all encouragement and there was a great feeling of warmth that night, something that I don't think will be replicated."
RI: You've played a bit in Europe yourself, Rangers 98' (sorry Tony, but it had to be said!!!) what happened?
TMcC: "I was waiting for this! I don't know what happened. I do still think about it though. It's strange, because otherwise I felt I was having a very good game, but I think it was just nerves. Being 3-0 up against Rangers, I think it was playing on my mind: 'what is happening here?' I suppose I just lost the head and unfortunately it's one of those things I'll always be remembered for. On the other hand, all publicity is good publicity!!! No, it was a bit upsetting to be honest; it doesn't bring back good memories for me. The whole night was a bit bizarre, as we were on the edge of madness really. It's something I find hard to explain. I wasn't even booked, it was just a bit weird!"
RI: You've been busy rubbing mens groins for a living, what's all that about? How did you get involved in physiotherapy?
TMcC: "When I was at Millwall, I had a lot of injuries and I was working with an osteopath, which is what I do now. I'd always been interested in that side of things, so when I came home I did a two year sports injury course, then I did a five year osteopath course, so for the past seven years I've basically been training to be an osteopath and I've been doing sports injuries in between. Just from playing and been injured, I think that's how I got into it. It's keeping me involved, so obviously I'm enjoying it at the moment."
RI: Do you hope to stay involved with Shels long-term?
TMcC: "Yeah hopefully. Any move away from here in Irish football would be a step down in my view. Pat has told me there will be something on offer over the next year or so, obviously a lot depends on finance, but I hope to stay here. If I have to, I'll work at another club, but ideally I want to stay with Shels."
RI: What about management/coaching?
TMcC: "No, it's never been something I've been particularly interested in to be honest. Not too sure why, but I haven't really gone down that road. Like I said, I like the sports injuries side of things and I think a lot more players want to learn about this sort of thing as well. But no, don't think management is for me."
RI: Over the years, who's been your preferred partner at the back?
TMcC: "Every player is different I suppose. Pat (Scully) was good to play with, but I really enjoyed playing with Jamie last year. We had a few good games together. Kevin as well, he's easy to play beside, because he does all the work and I can just stand there! But it is a pity I didn't get to play beside him a bit more, that is one regret I have. It takes time to build up a good partnership, but I'd say Kevin was the best anyway. (RI: Is he keeping you the job!)Yeah that's true enough. Certainly when I first came into it I was working a lot with him. He has been very unlucky with injuries, but he's getting there and is nearly fully fit, which is the most important thing."
RI: Another customary question, who is the "maddest pox" in Irish football – the Scouse or Geogho?
TMcC: "Probably Geogho's missus! Nah, Davy is mad, he's an absolute lunatic. But Geogho was…eh well he was Geogho! Fucking spacer! (RI: Jayo reckons Dave Crawley is up there too?) Actually yeah, he's definitely come out of himself anyway. Think they're all a bit mad though, but the scouser IS in a world of his own. He's great he gets the place going. Geogho had his moments too, then we had the two of them together, which was frightening!"
RI: Your best and worst moment with Shels?
TMcC: "Winning the double was my best anyway. When we won the cup that night in Dalymount, I really found it hard to contain my excitement and I wouldn't usually be like that, so it was a memorable occasion. My worst? Not the Rangers game believe it or not! Dundalk 98' was painful. We were so close, we'd beaten them six times that year, they hadn't even scored a goal against us and it was sickening to see the effort they put in to stop us winning the league. To be fair, we weren't good enough on the night, but that's football. Definitely a low point anyway."
RI: Finally, can we win the league again this year and do it all again in Europe next summer?
TMcC: "It's gonna be tough. Definitely a lot tougher than everyone thinks. There'll be a few twists and turns along the way and we have to be sharp, especially after everything we've done in Europe. If you look at the table, Drogheda have a head of steam now and we have to be wary of them. Whether we're still in Europe or out, we have to raise our game domestically. Every team we play makes it difficult for us, as we've seen in the last few weeks. We're expected to win it, but it's not going to be easy."